History and concept of IH Cologne
About me
Having begun different studies, some of them related to languages, others not, and having worked with a dance photographer (which was great fun), I ended up with a diploma of Psychology, specialising in Neuro Sciences. After finishing my diploma, I took part in the Teacher Training course at TTI DaF Freiburg and became a language teacher.
Since I founded the language school in 2007, I have constantly sought inspiration and further trainings to develop myself as a teacher, which is how I became a teacher trainer myself. It is a great passion of mine to be able to inspire colleagues to look at teaching differently, teach in a more playful, creative and in a more student centered way.
Besides the school: I love lonely nature, which is quite hard to see in this region, but somehow I find my little ways to escape, sometimes alone, sometimes with my three kids or friends. I´m dreaming of a garden where I could grow my own fruits and vegetables and where I have space for a cat and dog. I love music and good books, having a good time with my friends and doing yoga.
About our teaching
I am convinced, that teaching is one of the most challenging and demanding jobs there is. And also one of the most important jobs.
It makes me sad to see, how uninspired my kids are taught at school sometimes.
I believe, the most important aspect of being a teacher is, being able to inspire and to kindle the intrinsic inquisitiveness and desire to discover. The teacher training course at TTI Freiburg gave me exactly that.
The highly communicative teaching approach provides the tools needed to inspire students - The lessons are solely focused on the student and create natural speaking opportunities. Students work in pairs / groups most of the time, as it is proven that peer-to-peer teaching is one of the best teaching methods there is. Fear of the language is quickly lost and the teaching approach gives students the courage to experiment and play with the language.
For me as a teacher, there is nothing better than seeing the happy faces of (and slightly ruffled) students after a challenging lesson. Students that felt challenged but were able to master the challenge because the teacher helped them trough it and created a learning atmosphere, in which students are not afraid to make mistakes and have difficulties but overcame these with a wink.
About our professional view on being a language teacher
Unfortunately, DaF trainer is not a protected title in Germany, which has lead to many self-proclaimed German teachers without any qualifications.
This is a difficult situation for someone who has devoted their life to this job and expects the same of their team.
The general parameters are increasingly difficult for language teachers in Germany. Payment is often low due to the lack of required professionality, which has lead to very little motivation amongst language teachers to keep developing, training and upskilling or building their life around this job. Furthermore, the parameters are increasingly difficult through the area of tension created between language schools, who can offer cheap language courses because they do not demand high quality of their teachers, and schools subsidised by the state.
We, as a school, take the following stance:
Under no circumstances do we forego a basic vocational training of our teachers. Regular work shadowing and professional development are part of our school. Our permanently employed teachers are supported by a group of free lance teachers, who all have the same qualification. The team of our school has always been the centerpiece of our successful work.           
About Paul
Paul, the small stick figure which can be found all over our website, came to life during my teacher training course in Freiburg. Presenting grammar in a situational context is easier when you like to draw. Instead of using pictures from the web, Paul now does almost everything and can be found on almost every page of our huge amount of teaching materials.
Forgoing the use of a book gives us the advantage of:
1. Being able to customize the material to each course / student and
2. Use way more communicative excercises, as these are rarely found in standard books.
At IH Cologne we exclusively work with material created by ourselves and customised to our communicative teaching method.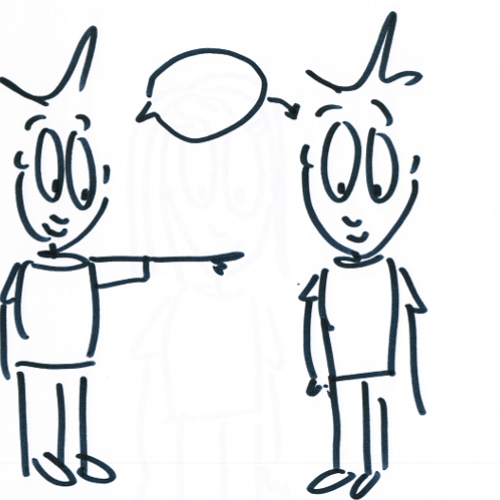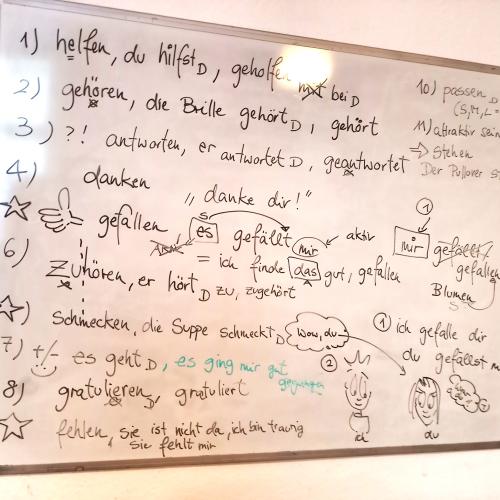 About IH
IH (International House) schools have an excellent reputation across the world. Offering first class lessons which meet the international standards of IH, is what defines IH Cologne.
This is why we work with the German equivalent to the English CELTA certificate. (CELTA is a qualification for teaching English as a second language and is a globally recognised certificate with a high reputation.)
As an IH school, we are subject to regular inspections and participate in frequent coachings and conventions. Furthermore, we have developed our own feedback culture, which animates us to keep improving ourselves.